Last night's lobster boil kicked off the second week at STAMPS. So far, it's been a very interesting experience, for a number of reasons.
While here, I've been noticing different classes of what we've been learning. I am currently seeing it along a spectrum of "transitory-immutable". The transitory end of the spectrum is "the [quick] fixes". These are tools like PyroNoise, which solve problems that are specific to the technology of today (errors introduced during high-throughput sequencing). The sequencing technology is developing so rapidly, that some of these tools may be obsolete within a couple of years. For example, it seems that fewer and fewer people are using 454 technology for sequencing these days. However, for those of us currently working with this sort of data, such tools are essential to making progress today.
The middle end of the spectrum might include concepts that are useful right now, but will likely change in the (relatively near) future. This would include concepts like OTUs ("operational taxonomic units" – something like a substitute for the concept of a microbial species). Just grouping organisms based on some level of genetic sequence similarity (often 3%) is a very rough way to define what we hope might be ecologically relevant groups. It currently helps us deal with errors in the genetic sequence that are created at a number (all?) of the points in the process of sequence data generation. There are still lots of errors associated with this process, and we have been discussing how to deal with them. While these approaches may have a longer life than the shorter-term fixes we've been learning about, ultimately, we'll hopefully be able to use much more of the genetic information from a community in our analyses. Already, at this course, we're learning about new and exciting ways to understanding the genetic diversity in our communities, with Meren's Oligotyping approach.
On the more immutable end of the spectrum, we're discussing concepts like measurements of beta diversity – how to compare the diversity in two or more communities – which have been being developed since the 60's.
The especially interesting thing for me is that – while it seems somewhat ridiculous to be learning the specifics of techniques that are going to be (basically) obsolete in just a year or two – this is the one of the only places where we could have access to so many of the top scientists in the field to learn the most up-to-date best practices for the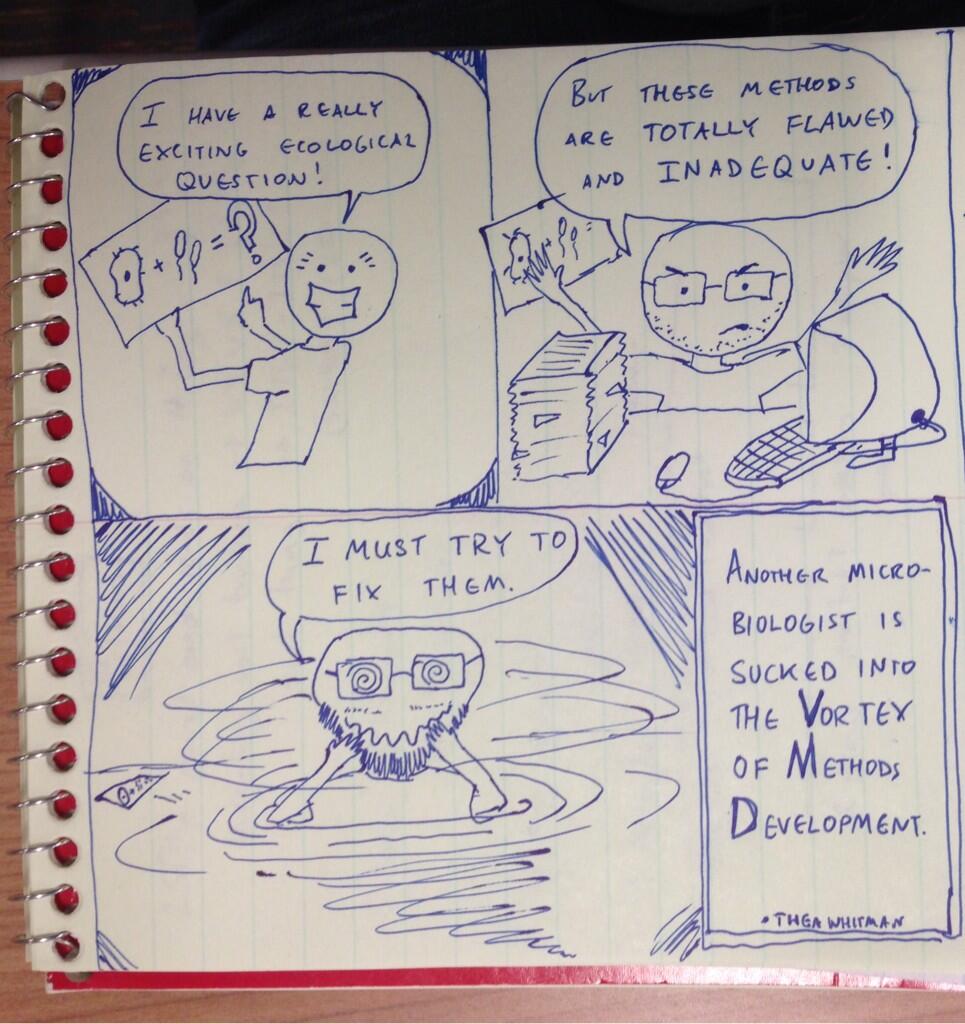 tools that we are using right now. So, the most technology-time-specific techniques are almost the ones that are the most useful to be here for, even though it is sometimes unsatisfying to realize how transitory they are.
Part of the reason for this effect is that methods development is still so important to harnessing the capabilities of today's technologies. So important, in fact, that many microbiologists seem to get sucked into what I am calling The Vortex of Methods Development. I drew a comic about it today. I think my Twitter feed may have officially jumped the shark, with 5 retweets and 5 favourites (!!!) hahaha.